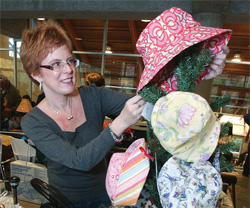 Hello everyone. Please allow me to introduce myself: I'm Barbara Enefer and I'm the face behind Miss B.E.E.  Who are we, well…I have been sewing since I was a little girl, but even before I could pick up a needle and thread my Mom dressed me in little girl dresses – that she made by hand – and other beautiful hand-made clothes. My Nana made lace and hand smocked my baby dresses. So I come by it naturally.
When I got older I fell in love with colour and prints. I made my own dresses and skirts, and later crafted aprons and table linen to sell at craft fairs and markets.
In 2014, a dear friend asked me to make some pajamas for her lingere store, using some of the beautiful prints in my stash. I started small and made a few pairs of P.J.'s for  Summer and Christmas to sell in the store, and to our surprise we couldn't keep them on the shelves! Next came shorts, then camis' and the Miss B.E.E. line was born.
Miss B.E.E. is an artisanal clothing company; our clothing is made right here in Vancouver, BC.
We take great care in selecting the high-quality fabrics and prints for our designs. Our design philosophy is to create well-crafted, beautiful fashions that evoke a spirit of whimsy and fun – relaxed clothing women enjoy wearing.
Miss B.E.E. garments are designed with a contemporary twist on classic, ageless designs. Colourful, beautiful, feminine, and fun, our clothes are also practical, wearable fashion. I hope you enjoy wearing them as much as I enjoy making them!